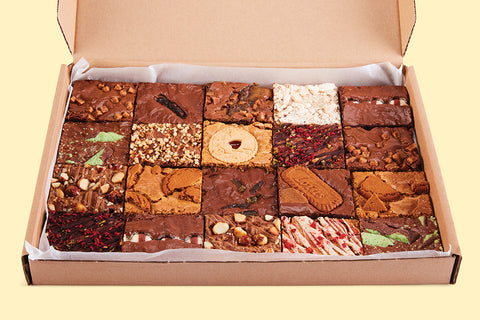 – Brownie
Malteser Brownie
What could be better than biting into our deliciously rich, gooey Belgian chocolate brownie? How about finding crunchy, crumbly Malteser pieces?! Done.
[Allergens]

Allergens: Milk, Soya, Nuts, Egg, Wheat
*Please note* We can't guarantee any of our products are suitable for those with allergies due to the risk of cross contamination.
Minimum Net Weight: 1.8kg
[/Allergens]
[Ingredients]
Dark Soft Sugar (sugar & molasses), Unsalted Butter (Milk), Dark Chocolate 55% (Cocoa Mass, Sugar, Cocoa Butter, Emulsifier, Soy Lecithin, Flavouring, Natural Vanilla)), Ground Almonds, Eggs, Fat reduced Cocoa Powder, Maltesers (Sugar, Skimmed Milk Powder, Cocoa Butter, Glucose Syrup, Barley Malt Extract, Cocoa Mass, Palm Fat, Lactose and Protein from Whey (from Milk), Whey Powder (from Milk), Milk Fat, Emulsifiers (Soya Lecithin, Wheat Flour, Palm Kernel Fat, Palm Kernel Oil, Raising Agents, Wheat Gluten, Salt,Glazing Agent (Pectins), Natural Vanilla Extract, Milk Chocolate contains Milk Solids 14% minimum, Milk Chocolate contains Vegetable Fats in addition to Cocoa Butter, Sugar, Cocoa, Vanilla: traded in compliance with Fairtrade Standards).
[/Ingredients]
${item.flavour}
${toast.message}