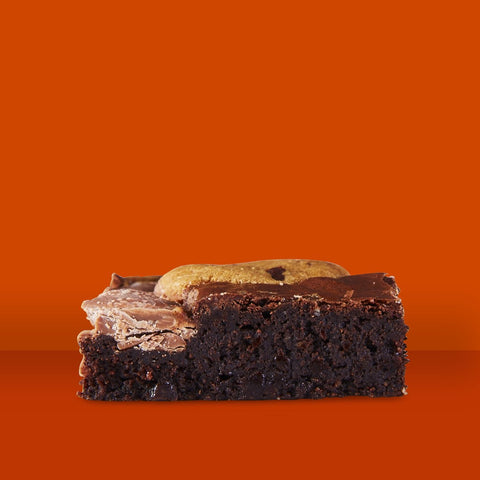 – Brownie
Caramel Cookie Dough Brownie
A generous chunk of choc chip cookie dough encased in our original chocolate brownie with pools of salted caramel & caramel choc buttons- a real treat!
[Allergens]
 Allergens: Milk, Soya, Nuts, Egg, Wheat, Sulphites
*Please note* We can't guarantee any of our products are suitable for those with allergies due to the risk of cross contamination.
Minimum Net Weight: 100g
[/Allergens]
[Ingredients]
Dark Soft Sugar (sugar & molasses), Unsalted Butter (Milk), Dark Chocolate 55% (Cocoa Mass, Sugar, Cocoa Butter, Emulsifier, Soy Lecithin-E322, Flavouring, Natural Vanilla), Ground Almonds, Eggs, Fat Reduced Cocoa Powder, Cookie dough (Wheat flour (WHEAT flour, Calcium carbonate, Iron, Niacin, Thiamin); Sugar; Chocolate Chips(19%) (Cocoa mass; Sugar; Cocoa butter; Fat reduced cocoa powder; Emulsifier: SOYA lecithins (E 322)); Vegetable fat: Palm; Vegetable oil: Rapeseed; Water; Glucose syrup; Black treacle; Whole EGG powder; BUTTERMILK powder; Raising agent: Sodium carbonates (E 500), Diphosphates (E 450); Molasses; Salt; Flavouring), Salted Caramel(Glucose Syrup (Sulphites), Sugar, Sweetened Condensed Skimmed Milk, Water, Palm Oil, Butter (Milk), Invert Sugar Syrup, Salt, Stabiliser: Pectin, Emulsifier: Mono- and Di-Glycerides of Fatty Acids, Preservative: Potassium Sorbate.) Caramel Milk Chocolate (Sugar - Cocoa butter - Whole milk powder - Skimmed milk powder - Cocoa mass - Caramel powder (skimmed milk powder, milk proteins, sugar, butter (milk) - Whey powder (milk) - Lactose (milk) Emulsifier:soy lecithin (E322) - Flavouring: caramel, natural vanilla).
[/Ingredients]
${item.flavour}
${toast.message}