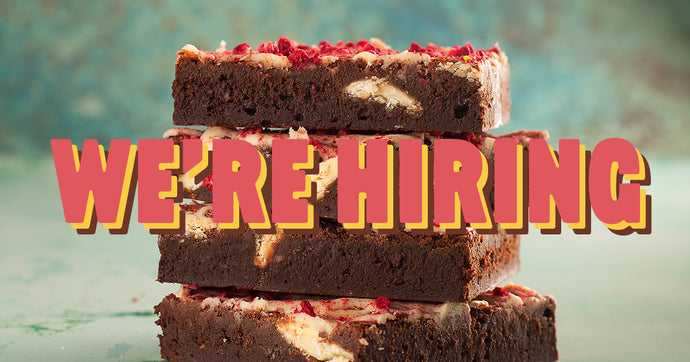 We have some rather exciting news at the moment – we're looking for some new recruits to come work with us on a temporary basis as part of our events team (With a possibility for permanent work).
Have a gander at our job listing below
We are looking for enthusiastic members to join our Brown & Blond events team to aid our pop-ups and festival pitches.
Brown & Blond make brownies. That's in our blood – we want to find friendly, social, and sales-driven event people to work on our stalls and aid customers to find their perfect treats. This is a great opportunity to work alongside our growing Brown & Blond team.
We have pop-ups and events throughout the Yorkshire area. This could be anywhere from Shopping Centres, Market Stalls, Festival Pitches, and Farmer's Markets.
YOUR DUTIES:
Setting up and breaking down our stalls at the events
Creating an inviting setup to entice customers
Sales - the most important part. We want you to get our brownies flying off the shelf.
This work will be on a temporary basis, required as and when we have events cropping up but there is scope for a permanent position to join our events staff in the future.
REQUIREMENTS:
MUST

 have a UK driver's license & vehicle to get to the events.
Food safety training is a bonus but not a requirement
How to apply:
Click the link below to apply on LinkedIn or email lucy@brownandblond.co.uk for more information or to send your CV 
https://www.linkedin.com/jobs/view/2673807817/?refId=VY%2F8mOwsfG4gidX7Z5zfbw%3D%3D&trackingId=ku83sWjhvt8ZZ8X3zJxjmA%3D%3D
All the best and good luck!