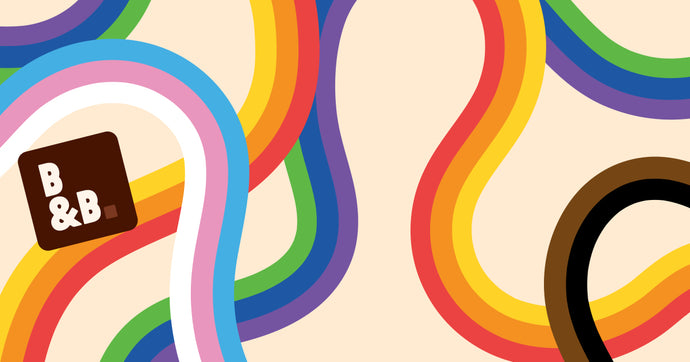 "Bing bang bong, sing sang song, ding dang dong! UK hun?" We certainly are because Pride Month is just around the corner and we have a whole heap of treats in store!
As you know last year we launched our first Pride campaign in collaboration with Angels of Freedom in Leeds. This year will be no different as we love the work that Rob and his team do.
Last year our big push was to raise money for Mental Health First Aid training and suicide prevention courses for volunteers who wanted to take part. We managed to get 40+ people trained in Mental Health First Aid since our pledge which was a phenomenal turnout to help people struggling with their mental health. We had volunteers in the education, healthcare, government and hospitality sectors (and then some) take the course in the aims of supporting more people within their community. 
Last year's total:
Our Pledge
This year we will be continuing our pledge of donating 15% of all online brownie box sales to Angels of Freedom as well as 15% of any of our Pride Blondie and Vegan Pride Brownie wholesale orders that our stockists order throughout the month of June. 
The Pride Range
We wanted to be even more inclusive this year with our Pride offerings so we have not one, but two flavours for you all to enjoy! 
Pride Blondie
For those of you who tried our Pride Blondie last year, you know just how good it is! But for those who haven't let me get into it; white chocolate pieces inside our blondie topped with a white chocolate ganache, smothered in sprinkles and a sprinkle of edible glitter. We took "fabulousness" to a whole new level. 
Pride Vegan Brownie
We wanted to be even more inclusive this year and so we didn't want any of you to miss out. Following the success of our new vegan range we thought it was about time we added a vegan option to our pride treats. That's why we created the Pride Vegan Brownie! Our delicious vegan chocolate brownie layered in vegan dark chocolate and lovingly topped with vegan friendly sprinkles and edible glitter. 
We can't wait for you all to sink your teeth into our Pride Month specials! 
The Pride Packaging 
As you may remember, we also redesigned our packaging for pride month to get into the spirit and they really did the rounds on social media!
We had people all over the UK taking our brownies including queens from various seasons of RuPaul's Drag Race UK, Glow Up, Drag S.O.S. and various influencers (to name just a few)!
Well this year is no exception and I think we really smashed it out of the park. 
Our Pride 2022 Packaging
We've gone bigger and bolder this year with boxes you certainly won't miss! 
We're co-sponsoring the Leeds Pride Village Fete
We are jointly sponsoring the Pride Village Fete event with Headingley-based company Tinkle. They provide cloud-based phone systems to businesses and charities across the country but also are a really socially conscious company that get involved in all sorts of LGBT+ related activities all year round.
They recently sponsored an LGBT+ Community Group event hosted by Mayor of West Yorkshire Tracy Brabin and Deputy Mayor Alison Lowe and are backing an initiative by the Angels of Freedom to provide free badminton sessions of LGBT+ Refugees and People Seeking Asylum.
Keep your eyes peeled on our socials to see where these beaut boxes will be appearing. And remember, "DO GOOD, EAT BROWNIES'!
Brown & Blond make brownies.