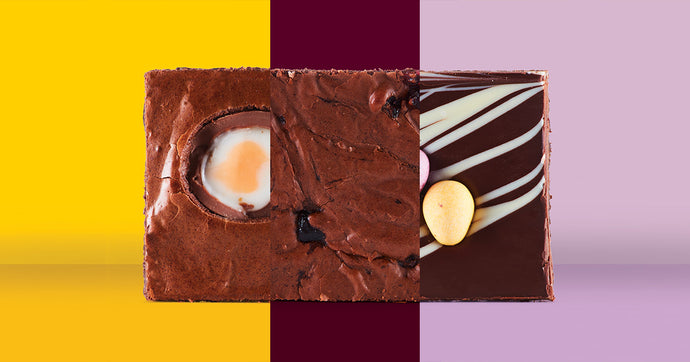 Cauliflowers fluffy and cabbages green, our brownies are the nicest on the bakery scene! Easter is upon us so we've gone wild with our springtime treats!
Our April Specials.
We won't keep you any longer, I know you're all dying to find out what treats we have for you this month. And this time, we're going for a triple feature! 
Creme Egg Brownie. 
We eat ours mixed in with our classic Belgian chocolate brownie. You'll find bursts of sweet fondant flavour and it's topped with creme egg halves. (Add your own egg pun here, although ours are pretty eggcellent!)
Mini Egg Brownie.
When we said our delicious Belgian brownie needed more eggs, we of course meant chocolate ones. Bite through soft, squidgy brownie, to crisp chocolate shells, to the solid chocolate inside. 
Black Forest Brownie. 
If you go into the woods today you're sure of a big surprise. Smothered in dark chocolate and cherries it can only be the mouthwatering Black Forest Brownie.
Not a bad selection, right? These three delicious brownies will be available to order from our website on April 1st (no fooling!) 
Brown & Blond make brownies.