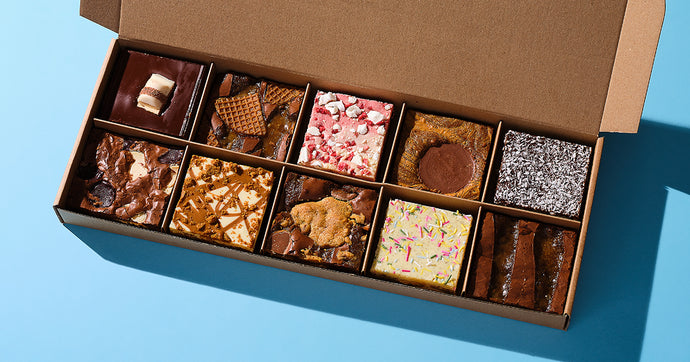 The wait is finally over, we've been wanting to mix it up for a while now and we can now happily say we have some new brownies available on our online store! 
Now don't you fear, we've kept a lot of your best-loved brownies online too, but we thought we'd have a shakeup and give you something different. Let's not beat around the bush, why don't we show you what our new online store flavours will be! 
Classic Flavours
These will be available all throughout the year, we've listened to some of your wishes and we know a few of our specials throughout the year have been tickling your fancy so we thought we'd add them to our main store! 
Original Brownie
The classic, the O.G. the big dog! This has been our most ordered brownie every year since we started. You can't beat those statistics so we thought it was only time we added it back to our online store! 
Salted Caramel Brownie 
Gooey brownies and sticky caramel? Phwoarrrr, don't mind if I do! What's not to love with this winning combination? Our Salted Caramel Brownies have been a major staple in our B&B journey and a real fan favourite for many years! 
Cookies & Cream Brownie
There's cookies, there's cream, is it reality or a dream?! One of the most moreish treats you'll ever eat. Don't believe us? You know what you have to do – you've got to try them for yourselves... thank us later.  
White Choc Chip Blondie
 We already know that blondies are a mouthwatering chomp of white chocolate goodness. Add some white chocolate pieces to the mix and its even better. After all, you can never have too much white chocolate! 
Bueno Layer Brownie
We know a lot of you already loved the Kinder Bueno Brownie and we did too but we're always looking at ways to improve perfection and by jove I think we've got it! We've added a creamy layer of bueno spread under a chocolate ganache topping with a piece of Kinder Bueno up top. I'm changing my name to Mutya Bueno from here on out! 
Chocolate Orange Brownie
Fruit and chocolate has always been a combination that divides opinion but so does chips and gravy and we know how great that is! Our Chocolate Orange Brownie is a perfect blend of flavours for those on the fruity side of life. 
Peanut Buttercup Brownie
 If you're a lover of peanut butter then holy moly have we got a brownie for you! Our Peanut Buttercup Brownie is everything you'd want it to be – peanut butter, peanut butter and peanut butter. Oh yeah, and with a chocolate peanut buttercup piece in the mix too – if you want peanuts, we'll give you peanuts peanuts! 
Triple Choc Brownie
 Three is a magic number! Our Belgian chocolate brownie swarmed in milk, white and dark chocolate pieces is every chocolate lovers thing of dreams. Well this dream is a reality and its one we know you can't wait to sink your teeth into! 
Ultimate Biscoff Brownie
When Madonna first sang "When you call my name, it's like a little prayer, I'm down on my knees, I wanna take you there" we know she was singing about our Ultimate Biscoff Brownies. This has been one of our most popular specials for quite some time now and we thought it was only fitting to add it to our main store for you to enjoy all year round. Long live the Biscoff! 
A pretty strong list, don't you think? And we're going bold too, we're adding a wider range of vegan-friendly flavours!
Vegan Friendly Brownies
 We know the vegan market is growing rapidly and although we've always been rather proud of our vegan friendly options we realised that we needed to add some more ooey-gooey indulgence to the mix. Just because you order vegan brownies doesn't mean you should have to go down a "health-route" and we wanted to give the same level of "phwoarrr" that we do with all our brownies. 
Original Vegan Brownie
For those wanting a nice and simple vegan friendly brownie, this is the one for you. Our signature Belgian dark chocolate brownie topped with a dash of dark chocolate.    
Raspberry Vegan Brownie
 Raspberries and dark chocolate go together like Ant & Dec. This indulgent delight is perfect for any time of day. Go on, be fancy, we dare you! 
Millionaire Vegan Brownie
Want to feel like Joan Collins on the set of Dynasty? Well now you can live your best form of opulence with our Millionaire Vegan Brownie. Our signature belgian dark chocolate brownie acts as the foundation of this delicious treat layered with vegan caramel and topped with a vegan chocolate ganache. Rich in taste and in style.  
Cookies & Cream Vegan Brownie
 Now we're cooking with gas! Not literally, we're bakers. A golden Oreo baked inside our signature Belgian dark chocolate brownie, a layer of chocolate smothering the brownie and topped with another golden Oreo. The Spice Girls approve the '2 Become 1' method of biscuit fillings & toppings! 
Orange & Pistachio Vegan Brownie
Its green but taste likes orange... How have we managed that? A zesty kick of orange pairs beautifully with the savoury pistachios and smothered in dark chocolate. You'll feel opulent eating it and it goes great with a coffee – a bonus!
Peanut Butter Layer Vegan Brownie
We don't mean to toot our own horns but this is next level! A layer of peanut butter coats the brownie topped in a dark chocolate ganache and more peanuts raining down on top. This is every peanut lovers dream. Savoury and sweet with every bite. 
Ultimate Biscoff Vegan Brownie 
We know how much everyone loves the Ultimate Biscoff Brownie and we wanted to make sure we could offer something equally fab for our vegan friendly brigade. Our signature Belgian dark chocolate brownies are covered in a layer of Lotus spread, a dark chocolate ganache, more lotus spread to marble and a final topping of Biscoff biscuit crumbs. This is a God-tier vegan treat for anyone on the lookout for a mastication sensation.
How good do these all look?! All of these flavours are now available to order through our online store. So don't wait around, be one of the first to get yours!
Brown & Blond make brownies.