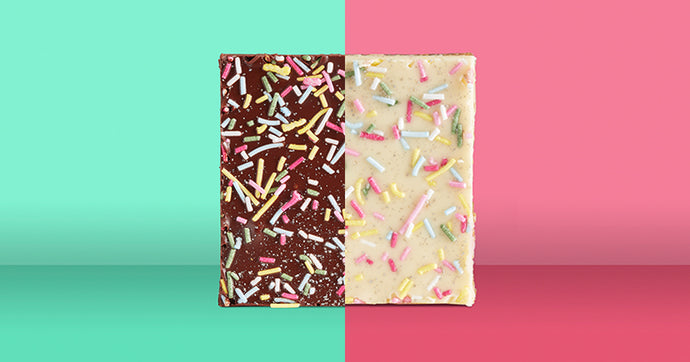 "What have you done today to make you feel proud?" I'll tell you what we've done, we've got two new magical June specials for you all and this month we're going Pride themed! 
June's Pride Specials
We wanted to be even more inclusive this year with our Pride offerings so we have not one, but two flavours for you all to enjoy! 
Pride Blondie
For those of you who tried our Pride Blondie last year, you know just how good it is! But for those who haven't let me get into it; white chocolate pieces inside our blondie topped with a white chocolate ganache, smothered in sprinkles and a sprinkle of edible glitter. We took "fabulousness" to a whole new level. 
Pride Vegan Brownie
We wanted to be even more inclusive this year and so we didn't want any of you to miss out. Following the success of our new vegan range we thought it was about time we added a vegan option to our pride treats. That's why we created the Pride Vegan Brownie! Our delicious vegan chocolate brownie layered in vegan dark chocolate and lovingly topped with vegan friendly sprinkles and edible glitter. 
But wait, there's more!
Throughout the month of June we will be donating 15% of all our online brownie box sales to Angels of Freedom in Leeds. We can't wait for you all to sink your teeth into our Pride Month specials and make a difference to a great cause! 
Brown & Blond make brownies.