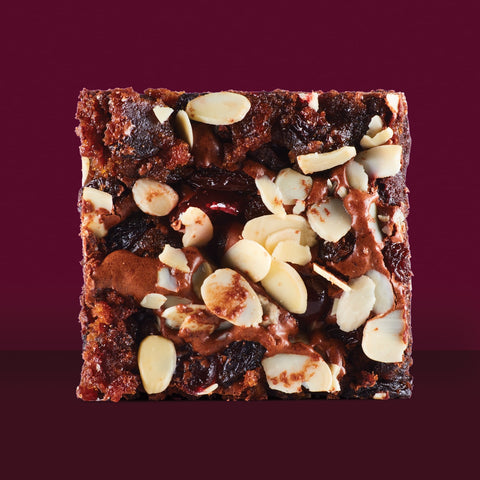 – Brownie
Christmas Pudding Brownie (Ve)
Fa la la la la la la la… we've made our vegan brownie taste so Christmassy you can almost hear festive songs as you bite into the rich, fruity, gooey deliciousness.
[Allergens]

Allergens: Soya, Nuts, Sulphur Dioxide
We can't guarantee any of our products are suitable for those with allergies due to the risk of cross contamination.
Our Vegan Friendly products are made to a vegan recipe but are not suitable for those with diary and egg allergies.
PLEASE NOTE - IF YOU ARE CHOOSING A MIXED BOX OF VEGAN FRIENDLY AND NONE VEGAN BROWNIES THESE WILL BE PACKED TOGETHER. 
Minimum Net Weight: 100g
[/Allergens]
[Ingredients]
Dark Chocolate 55%(Cocoa Mass, Sugar, Cocoa Butter, Emulsifier, Soy Lecithin-E322, Flavouring, Natural Vanilla), Dark Soft Sugar(Sugar & Molasses), Water, Gluten Free Plain Flour (Rice, Potato, tapioca, Maize, Buckwheat), Vegetable Oil(Soya Bean Oil (produced from Genetically Modified Soya), Ground Almonds, Fat Reduced Cocoa, Whiskey, Flaked Almond, Raisins, Mixed Citrus Peel (Sulphates), Glace cherries (Cherries, Sugar, Glucose Fructose Syrup, Colour E127, Citric Acid, Preservative; E202 & E220 (SULPHUR DIOXIDE), Orange Oil (Ethanol, orange oil, flavouring), Mixed spice (Cinnamon, Coriander Seeds, Dill Seeds, Ginger, Cloves, Nutmeg).
Allergens: Soya, Nuts, Sulphur Dioxide

[/Ingredients]
${item.flavour}
${toast.message}