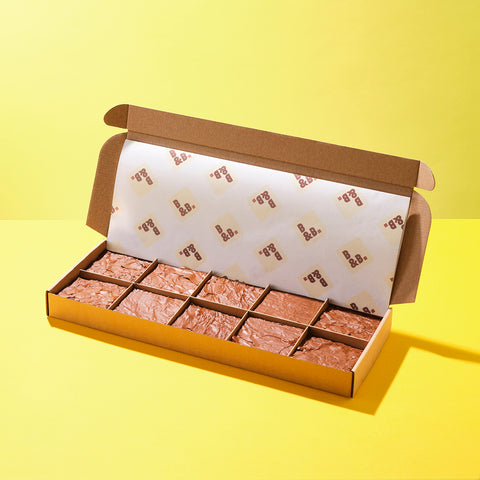 The OG Brownie Box
Sometimes simple is best right? Theres nothing plain about these B&B original brownies. The finest Belgian chocolate brownies, deliciously gooey want-another-bite-right-now brownies. 
All our brownies last 10 day ambient and freeze beautifully.
*Please note we cannot make substitutions or alterations within this box*
[Allergens]
Allergens: Milk, Soya, Nuts, Egg
*Please note* We can't guarantee any of our products are suitable for those with allergies due to the risk of cross contamination
Minimum Net Weight: 1.8kg
[/Allergens]
[Ingredients]
Dark Soft Sugar (sugar & molasses), Unsalted Butter (Milk), Dark Chocolate 55% (Cocoa Mass, Sugar, Cocoa Butter, Emulsifier, Soy Lecithin-E322, Flavouring, Natural Vanilla)), Ground Almonds, Eggs, Fat Reduced Cocoa Powder.
[/Ingredients]
${item.flavour}
${toast.message}