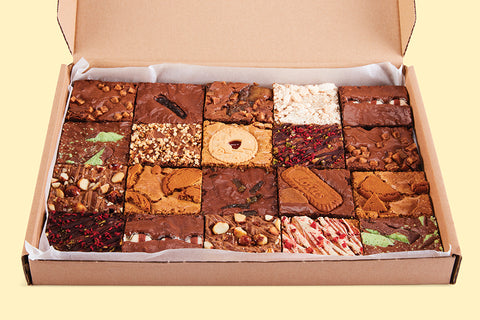 – Brownie
Orange Brownie
The classic combination of chocolate and orange, all mixed in with our classic Belgian chocolate brownie. Orange oil gives you that true orangey taste in every single bite, with the snap of chopped chocolate adds that extra bit of bite. 
[Allergens]
Allergens: Milk, Soya, Nuts, Egg
*Please note* We can't guarantee any of our products are suitable for those with allergies due to the risk of cross contamination.
Minimum Net Weight: 1.8kg
[/Allergens]
[Ingredients]
Dark Soft Sugar (sugar & molasses), Unsalted Butter (Milk), Dark Chocolate 55% (Cocoa Mass, Sugar, Cocoa Butter, Emulsifier, Soy Lecithin,Flavouring, Natural Vanilla), Ground Almonds, Egg, Fat Reduced Cocoa Powder, Orange flavouring (Ethanol, orange oil).
[/Ingredients]
${item.flavour}
${toast.message}