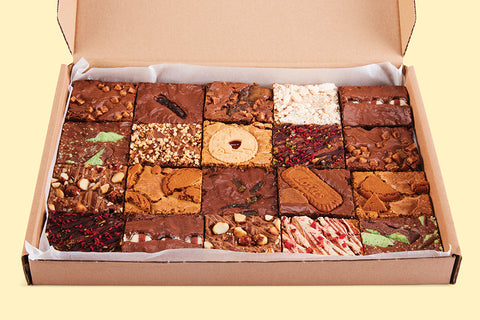 – Brownie
Custard Cream Blondie
Why just have a biscuit when you can have a Custard Cream Blondie? Our classic white chocolate blondie, with the added crunch of biscuit layers and that unmistakable creamy filling.
[Allergens]
Allergens: Milk, Soya, Nuts, Egg, Wheat
*Please note* We can't guarantee any of our products are suitable for those with allergies due to the risk of cross contamination.
Minimum Net Weight: 1.8kg
[/Allergens]
[Ingredients]
Dark Soft Sugar (sugar & molasses), Unsalted Butter (Milk), White Chocolate (28%) (Sugar, Cocoa Butter, Whole Milk Powder, Emulsifier, Soy Lecithin Flavouring, Natural Vanilla), Ground Almonds, Egg, Custard cream Biscuits (11.6%)  Fortified Wheat Flour [Wheat Flour, Calcium Carbonate, Iron, Niacin (B3), Thiamin (B1)]SugarPalm OilWhey Powder (from Milk)Glucose SyrupWheat Starch Raising Agent )Salt ,Flavouring, Colour (E 160a)
[/Ingredients]
${item.flavour}
${toast.message}