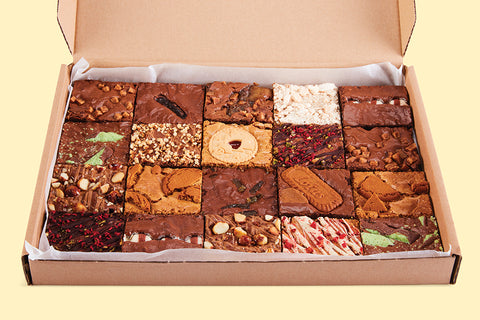 – Brownie
Christmas Pudding Blondie
Dreaming of a white chocolate blondie? You'll think Christmas has come early the moment you bite into the rich, fruity, Christmas pud flavours, swirling their way through our classic blondie.
[Allergens]
Allergens: Milk, Soya, Nuts, Egg, Wheat
*Please note* We can't guarantee any of our products are suitable for those with allergies due to the risk of cross contamination.
Minimum Net Weight: 1.8kg
[/Allergens]
[Ingredients]
Dark Soft Sugar (sugar & molasses), Unsalted Butter (Milk), White Chocolate  (Sugar, Cocoa Butter, Whole Milk Powder, Emulsifier, Soy Lecithin, Flavouring, Natural Vanilla), Ground Almonds, Egg, Brandy, Pistachio, Flaked Almond, Sultana, Christmas pudding (Sultanas (31%) , Sugar , Fortified Wheat Flour Wheat Flour, Calcium Carbonate, Iron, Niacin (B3), Thiamin] , Cider (12%) , Rapeseed Oil , Water , Humectant (Glycerol) , Raisins (1%) , Sherry (1%) , Rum (1%) , Brandy (1%) , Orange Peel , Treacle , Molasses , Mixed Spices [Coriander, Cinnamon, Ginger, Clove Powder] glucose /fructose syrup, salt, Lemon zest, yeast, orange oil, citric acid, ascorbic acid.)
[/Ingredients]
${item.flavour}
${toast.message}